City Matters: Fields in Transition? Hollows Garden could plant a seed for other overlooked plots
New Hampshire Union Leader
August, 16, 2019
Mark Hayward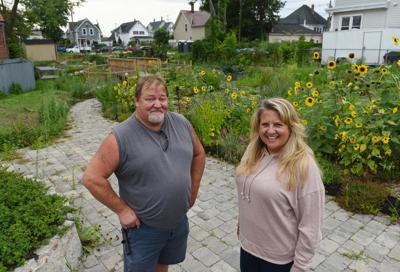 An undertaking just as important — and perhaps more manageable — is underway in the Hollows neighborhood. It involves eliminating ugliness and creating beauty. And perhaps some food to boot.
This is the third year that Hollows Garden has been in operation. It's located at the heart of the Hollows, a neighborhood of apartments houses around Massabesic and Spruce streets where sidewalks are often the only front lawn.
Walk through the garden on a mid-August day, and it captures the hues of the season. Bumblebees flit from purple flowers to flowers on a bush-shaped plant. Mint and other herbs boast a rich green and pleasant taste.
Strong and mature perennials such as sunflowers, daisies and tiger lilies sprout bright colors like a healthy grandmother dressed in her Sunday best. Eggplant and zucchini plants hide their bounty beneath draping leaves.
Spokesman Michele Talwani said the garden represents an organic, self-sustaining perma-culture approach to produce food for the soup kitchen and other FiT homes.
"Just like any of our properties, we take pride in this. What we put into the community, they give back," Talwani said.
In that sense, I nominate a few other spots in the city for such attention. With the photographs of Tom Roy and the Photoshop work of Tom Lynch, you could consider these Fields in Transition.
Blaine and Third streets
Most vacant lots in this city grow weeds. This lot grows junk. The city has taken the owner, Matthew Skwozinski, to court several times over the years. The city once even cleaned up the lot and sent Skowzinski a bill to pay for it.
But two years ago, the city blinked and did not take ownership of the land for back taxes. At the time, aldermen feared that contamination from the vehicles and other junk would translate into a costly cleanup.
So now there is a big fence around the lot and a Coldwell Banker for sale sign on the fence. (When I called the number, the voice mail said the mailbox was full and couldn't take messages.) And cars and boats have grown up on the lot like crabgrass.
Meanwhile, the seemingly invincible Skwozinski owes the city $346,700 in back taxes and judgments.
Canal Street railroad tracks
Railroad tracks bisect this city, separating the economic engine of the Millyard with the economic caboose of downtown. Both areas are historic. Both feature tall, signature buildings. Both areas have an energy — and a future — to them.
One would expect a demarcation that recognizes such a significance.
Instead, the PanAm Railway tracks feature waist-high weeds and spindly hardwoods clutching whatever ground they can find. At one point the railroad was the aorta in the heart of the city. If that's the case, it should keep the line clean.
PanAm Railways asked me to email them questions. I asked what it does to control vegetation around its tracks. Does it have a landscaping plan for Manchester? What do other cities require of Pan Am? I'm still waiting to hear from them.
Six years ago Shaw's closed its massive, 65,500-square foot (that's about 1 ½ acres) supermarket on South Willow Street.
It has sat empty since then, and will likely be for another 10 years. That's because Shaw's is locked into a 25-year lease on the property, a lease that generated nearly $1.6 million this year for the investor who owns the property, according to the city assessor.
"There's no way you could achieve in the current market what Shaw's is on the hook for," said Robert Gagne, the chief Manchester assessor. Shaw's also has to pay taxes, and it recently won a 30 percent reduction in its tax assessment.
Of course, a garden is impractical because it would generate even less for the investor. But the Shaw's lease runs out in 2029, and the retail world is already shifting from brick-and-mortar stores to on-line clicks and 'bot deliveries. The land is flat. It's well drained. One day they may be growing lilies and tomatoes on land where we once parked our cars and bought flower bouquets and vegetables.
Bass Island
I guess it comes from watching TV in the '70s. Like Gilligan, I think of islands as idyllic places where food is abundant, everyone gets along, and water laps at nearby shores.
Not so at the 2 1/2-acre Bass Island. It is home to a small city park and a dog park. But the largest portion — visible from Interstate 293 — is owned by an Allenstown man who leases it out. A couple years ago it proved a convenient place to store highway construction vehicles. More recently, it's a storage area for logs and wood chips.
"I want it to be a passive park," said state Rep. Jane Beaulieu, who in the mid-2000s tried to get the state to buy the land through its Land and Community Heritage Investment Program. She envisioned gardens and access to the river for canoeists and kayakers.
But that never took place; Beaulieu said the state felt the land wasn't endangered. She fought a couple of development projects, including a hamburger restaurant. The only improvement to the island in the past 10 years has been the dog park.