City Matters: Say Ahhhh — Manchester gets a physical
New Hampshire Union Leader
Mark Hayward
July 6, 2019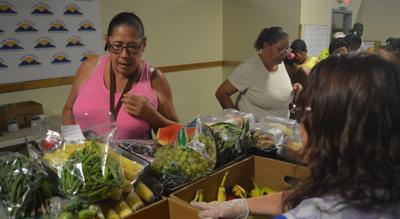 I'm old enough that I'm supposed to get physicals more often. I hate them.
I get probed and asked intrusive questions. I can no longer deny those creaky joints and funny spots on my skin.
And I will have to end up changing my behavior, spending a lot of money or both.
Manchester's city health director, Anna Thomas, has been giving the city a not-so-regular checkup and has been sizing up some vital signs. She does it the way a doctor would. Gathering data and making diagnoses. Differentiating between symptom and disease. Weighing contributing factors. Looking at possible cures.
Here are the city's vital signs.
Poverty: In 2017, Manchester was home to 35,000 people living in families with income at 200 percent of the federal poverty level or less. That measure — $49,000 in 2018 dollars for a family of four — defines the working poor.
If they were a city, the 35,000 would comprise the fourth largest in the state.
They are people like Crystal Perks, 32, a mom of two children who lives at Welcome Home, a rooming house geared toward families. About a year ago, her children's father was deported, leaving her with a $771 Social Security disability check to make due.
She spoke at the New Horizons food pantry, where once a month she can pick up free groceries. She said nearly all her money goes toward the $700 rent bill.
"I'm stuck right now," she said. There is lots of help available for poor people — pantries, social agencies and health clinics, she said, but a lot of people find it hard to navigate all the agencies.
Research has shown that social and economic factors account for 40 percent of one's health, a higher percentage than factors such as access to clinical care, one's behavior and habits, and the environment, Thomas said. A poor person can't afford good food. Their car breaks down and they miss a doctor's appointment. They live in substandard housing with environmental and safety problems. And stress is constant.
Third-grade reading proficiency: There are all sorts of numbers to measure education — test scores, graduation rates, attendance rates.
Thomas focuses on third-grade reading abilities. Third grade is when a child transitions from learning to read to reading to learn. Without a strong reading foundation, students struggle and are more likely to end up in poverty.
Two years ago, only 28 percent of Manchester third-graders were reading at grade level. That compares to 54 percent for the state as a whole.
On Wednesday, I visited the revamped children's room at the city library. I realize it was the day before the holiday, but only two families were there.
Yen Nguyen said her 8-year-old son, who is going into third grade, reads about five books a week.
"If he wants to do something fun, he has to read for at least 30 minutes," she said. Obviously, he will fall into the 28 percent.
"This didn't just start in third grade," Thomas said about poor reading scores. Launch Manchester has just unveiled a five-year strategy to address early education, empower families and improve access to behavioral health services for children.
Child Protection: In 2016, the Manchester district office of the Division for Children, Youth and Families accepted 1,691 cases. As high as that figure seems, it's probably too low.
The Nashua office was just 160 cases short of Manchester's. And tiny Concord logged 1,485 cases. Fifty-seven percent of the Manchester cases had drugs or alcohol as a risk factor, the highest percentage in the state.
"They really are at advanced stages of maltreatment when we get to these kids," Thomas said.
A good system would identify at-risk kids early on — for example, a kid who's chronically absent from school — and provide help before abuse takes place.
"A family might be living in a trailer or car. They're doing what they can for their kids. It's not necessarily a call to the DCYF (that's needed), but they need help," said Jaime Hoebeke, the chief strategy officer at the Health Department.
Mental distress: A little more than 13 percent of Manchester residents experience frequent mental distress, which the Census defines as poor mental health for 14 or more days in a month's time. That's slightly above the national average.
Thomas said it can have a big impact. For example, a family doesn't have its own home and bounces between friends and family members. The instability creates stress, which creates anxiety, which means a kid can't learn well, which means disruptions at school and bullying.
Eventually a teenager ends up in the emergency room talking about suicide.
To Thomas, societal problems such as overdoses, homelessness and crime are the symptoms of mental health problems.
"Peel back the onion. If you're going to prevent it, you have to get to the driver of these things," she said. "It starts with good mental and behavioral health."
Growing elderly population: Manchester has 14,550 residents 65 and older, and the city's number of elderly is only expected to grow as life expectancy improves.
Old people in Manchester suffer a host of health problems at higher rates than the rest of the country — asthma, kidney disease, visual impairment, depression, diabetes, heart disease, personality disorders.
"We never as a city had to think about aging. We were a mill city," Thomas said.
Although an elderly person would want to stay out of some neighborhoods, it's still a pretty good city to live in for elderly overall, said Chris Small, a retired electrical engineer visiting the Manchester Senior Center last week.
"There's plenty to do if you want to pursue it," said Bruce Guinard, a retired clinical social worker. He mentioned computer classes, bingo, fitness groups, book clubs and dances at Sweeney Post.
Quality of Neighborhoods: Thomas' raft of health statistics — and there are a lot more than the five mentioned here — aren't limited to the city as a whole. She has broken them down by the city's 30 census tracts to track the health of neighborhoods.
"The city has almost an emotion to it. You drive in certain parts of the city and you can almost feel the depression," she said.
She hopes to develop neighborhood dashboards — like report cards for individual schools — where people could go online to check the health of their neighborhood.
A neighborhood focus on health helps to concentrate efforts where they will do the most good, everything from bookmobile visits to recreation programs at particular parks. A longer-term goal: school-based health clinics where kids and families could see a doctor.
A cure: Thomas said the Health Department will spend much of the summer working a neighborhood health improvement strategy, a follow up to an initial effort in 2014. With a neighborhood focus, she hopes to better coordinate community health programs, grant money and the work of non-profit agencies.
"We have the opportunity right now," she said, "to change the trajectory for children and families."