Granite State Credit Union Donates $5,000 for Families in Transition
Granite State Credit Union donates $5,000 for Families in Transition as this year's management gift.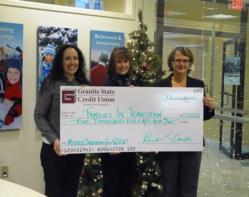 Pamela Punsky, Donor Relations Manager, credit union Marketing Manager Jody Ducharme, and Families in Transition President, Maureen Beauregard.
Manchester, New Hampshire (PRWEB) December 24, 2012
Granite State Credit Union has donated $5,000 as this year's management gift to Families in Transition due to their efforts of focusing on helping children throughout the state in the present and for their futures. It is through generous donations that Families in Transition provides safe, affordable housing and comprehensive social services to individuals and families who are homeless or at risk of becoming homeless, enabling them to gain self-sufficiency and respect. Credit Unions were founded based on the principle of people helping people and in that spirit, the management team of GSCU has chosen Families in Transition as the recipient of their annual holiday donation for 2013.
Granite State Credit Union serves individuals, families and businesses throughout the state with membership open to anyone living or working within New Hampshire. For more information, visithttp://www.gscu.org or call 800-645-4728. For more information on how you can support Families in Transition visit https://www.fitnh.org.
This credit union federally insured by NCUA.