No vacancy: Housing crunch has shelters full and homeless camps growing
New Hampshire Union Leader
Shawne Wickham
December 14, 2019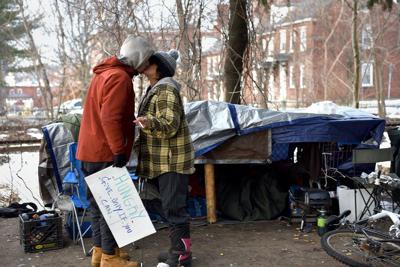 While a new report shows a drop in the number of people experiencing homelessness in New Hampshire this year, advocates say the numbers don't tell the real story.
Statewide, shelters are at or above capacity — a result of the scarcity of affordable housing here, according to advocates.
"The real problem is that we don't have enough housing, so people end up in the shelter, and end up in the shelter for longer periods of time," said Cathy Kuhn, director of the New Hampshire Coalition to End Homelessness. "It's a supply issue around housing."
The coalition's 2019 "The State of Homelessness in New Hampshire" report, which will be released on Wednesday, found that 1,382 people were homeless during a 24-hour census of both sheltered and unsheltered individuals conducted last January. That's 68 fewer people than were counted the previous January, Kuhn said, and 74 fewer than were counted in 2017, which amounts to a 5% decrease over the past two years.
"That's great news," Kuhn said. However, she said, "Looking at the overall landscape for who's experiencing homelessness, we're not doing great."
Longer stays and lower turnover aren't limited to the winter, she said. "This is a year-round thing," Kuhn said. "'Our shelters have been at capacity for many, many years. We do know people are getting turned away and there really are very few options for them."
Martha Stone, executive director of Cross Roads House in Portsmouth, said that's what they're seeing at her shelter.
"Homelessness is occurring year-round, and we are typically seeing demand exceed our normal bed capacity for the majority of the year," she said. "You've got increased lengths of stay, which means our beds are not opening up as quickly as they could for new people in need."
The Portsmouth shelter can exceed its 96-bed capacity by adding mats to the floor, she said. During storms, she said, "We do what we can to get people out of the elements."
But that's only a temporary fix, Stone said. "People who stay with us get case management, connecting people with lots of wraparound supportive services," she said. The shelter can't keep taking in new clients if it doesn't have the case managers to help them, she said.
"Safety is the most important criteria," she said. "There does ultimately become a limit on how many people we can safely provide for."
Stone said some might be surprised at who find themselves homeless these days. "A lot of the people experiencing homelessness that we serve are working, but they are not able to earn a wage that comes even close to being able to afford a market-rate apartment," she said.
"Someone's child might be sitting next to a child in their classroom who's coming home and sleeping at our shelter at night and they might never know that."
According to the New Hampshire Housing Finance Authority, the monthly median gross rent statewide for a two-bedroom unit is $1,347; meanwhile, the vacancy rate is less than 1%. That's what is really driving the homelessness situation in New Hampshire, advocates say.
Kuhn is also chief strategy officer at Families in Transition/New Horizons, which operates separate emergency shelters for families and for single individuals in Manchester.
The family shelter has just 11 units, with a waiting list of anywhere from 70 to 150 families, Kuhn said. About a third of those waiting families report living outside, sometimes in cars, or in unheated tents, campgrounds or porches. The others may be "couch surfing," or moving from one friend or relative to the next.
It's especially difficult to find affordable housing for larger families, Kuhn said, "and that's why people end up in the shelter longer."
And there's another problem: Individuals and families who receive federal housing subsidies that would help them afford the rent — typically after spending years on a waiting list — often can't find a landlord who will rent to them, Kuhn said. "They end up turning it back in because they can't find housing to use it," she said.
Jenny Connor-Belcourt, shelter director at The Salvation Army McKenna House in Concord, said many of those living at her shelter are working. "But the problem is the wage has not kept up with housing," she said.
According to federal guidelines, someone would have to earn $22 an hour to afford a two-bedroom apartment in New Hampshire, she said.
The total number of people served at McKenna House over the past year is indeed lower than the previous one, Connor-Belcourt said. But she said, "The reason for that is because people have to stay longer. There's a backup because they can't get into housing really quickly."
There are some bright spots, she said. One woman who came to the shelter as a client now volunteers there. And a man who has lived there for more than a year became a resident staff member, house chef and a mentor to a younger resident, Connor-Belcourt said.
The lack of affordable housing is forcing people to seek "creative" solutions, Connor-Belcourt said, such as finding roommates among the people they meet at the shelter. Three-quarters of the clients served at McKenna House have found housing over the past year, she said.
Housing experts say the best way to combat homelessness is to prevent evictions in the first place. The goal is to address the underlying reasons for why people end up losing their housing, including physical and mental illnesses and substance use disorders, Kuhn said.
"It doesn't mean that people won't fall into homelessness, but that you have a system in place that can make that experience as brief as possible, as rare as possible and only one time," she said.
There has been some progress on the state's housing crisis, Kuhn said. Lawmakers this year agreed to add $10 million over the two-year budget period to increase affordable housing.
Grace Lessner, public information manager at New Hampshire Housing Finance Authority, said the state's Affordable Housing Fund provides low-interest loans and grants for construction, rehabilitation and/or acquisition of affordable housing.
Lawmakers made a one-time $5 million appropriation to the fund for this fiscal year and authorized, starting in FY 2021, an annual $5 million appropriation from real estate transfer tax revenues.
Since the program began in 1988, Lessner said, "This is the first time the state Legislature has created a dedicated and ongoing funding source."
On the federal level, legislation introduced earlier this year by Sen. Maggie Hassan, D-N.H., the Prevent Evictions Act, would support landlord-tenant mediation and rent insurance programs.
Earlier this year, Kuhn visited San Francisco to see what that city is doing to address its enormous problem with homelessness. "It's absolutely tragic what you see on the streets," she said.
Here in New Hampshire, she said, where the numbers are still relatively low, the state has an opportunity to really make a difference. "We're at a point now where we can wrap our hands around it," she said. "If we're committed to it, if we're dedicated to it, if we make it a priority, we can do something about it before it gets worse.
"New Hampshire is a small enough state, and we have so much going for us, that if we make this a priority, we could be the first state to really end homelessness," she said.