The Walk Against Hunger has been a tradition in Manchester, NH, for over 30 years. Every May, walkers and supporters gather to raise funds for those experiencing food insecurity and bring awareness to the community. On May 21, 2023, the annual event will be held for the 33rd time at Veteran's Park in Manchester – let's look back at where it all started. 
While the fundamentals of the event and its mission have stayed the same over the decades, some things look a bit different these days – for instance, the event's name. When the original walk took place in 1990, it was dubbed The Walk for Hunger and was one of the flagship events for New Horizons, a homeless services provider. As of 2018, New Horizons merged with Families in Transition, thus transferring ownership of the event and becoming the Walk Against Hunger that we know today. 
By far, the most notable change since the event's inception is the route. As of 1996, the walk route was six miles long, starting at the New Horizons Soup Kitchen facility at 199 Manchester St., now the Families in Transition Adult Emergency Shelter, and ending at Victory Park. The route crossed the Merrimack River twice and zig-zagged across various neighborhoods throughout the city. Today, the walk route measures the distance of a 5K (3.1 miles) and begins and ends at Veteran's Park. still begins at 199 Manchester St. The ending ceremony now takes place in Veteran's Park and continues to host a variety of refreshments, supporters, and local businesses.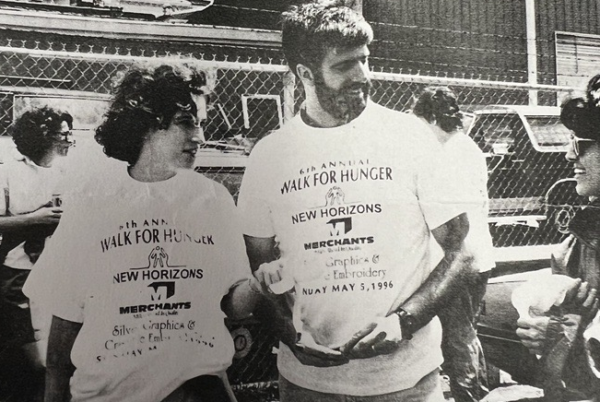 Image of two walk participants in 1996
In 1996, the walk boasted 150 participants, a record for the event then, and raised over $14,000 in funds. As of 2022, it has over 500 participants and raised over $148,000 in funds for the mission! As the event continues to evolve, one thing remains constant, the commitment of the community in Manchester, NH to help those in need.  
Be sure to join us again this year on May 21, 2023, for another great event!