On Wednesday, September 29, Families in Transition hosted what seems like a rare occurrence at our organization in the past several months, an in-person event.
We've readjusted many of our programs and events, but knew that we needed to do something to acknowledge our marvelous volunteers. They never skipped a beat during the turbulence of the past eighteen months and they deserve the recognition.
In an intimate setting at the Currier Museum of Art, we gathered with board members, staff, and volunteers. Attendees were able to wander off to view some of the art exhibits as well. Volunteering is an art form in its own right. It takes dedication and a willingness that goes beyond small acts of kindness. What our volunteers do shows genuine empathy and a commitment to helping others.

It's been a bit of a rollercoaster ride for our volunteers dating back to March 2020 when we temporarily paused several of our volunteer programs. Our volunteers are the lifeblood of thriving programs. Having them around enriches the experience for staff and participants. Thankfully we were able to implement new policies and procedures to ensure the safety of our volunteers, staff, and program participants and slowly welcome them back in meaningful ways over the past year.

Our Volunteer team also transitioned our Volunteer Orientations to an online format and is hosting regular sessions almost every month now.

We've talked about the resiliency of our organization this past year. Many people stayed right by our side through some of the most challenging periods in recent history. While everything in the world felt a bit chaotic, our volunteers showed up in a big way, thinking of others and how they could help. Serving meals at our adult emergency shelter, sorting, inventorying, and distributing food at our pantry, and keeping the retail world of Outfitters Thrift Store moving along.
Many of the Families in Transition team members spoke about the impact of our volunteers on the community.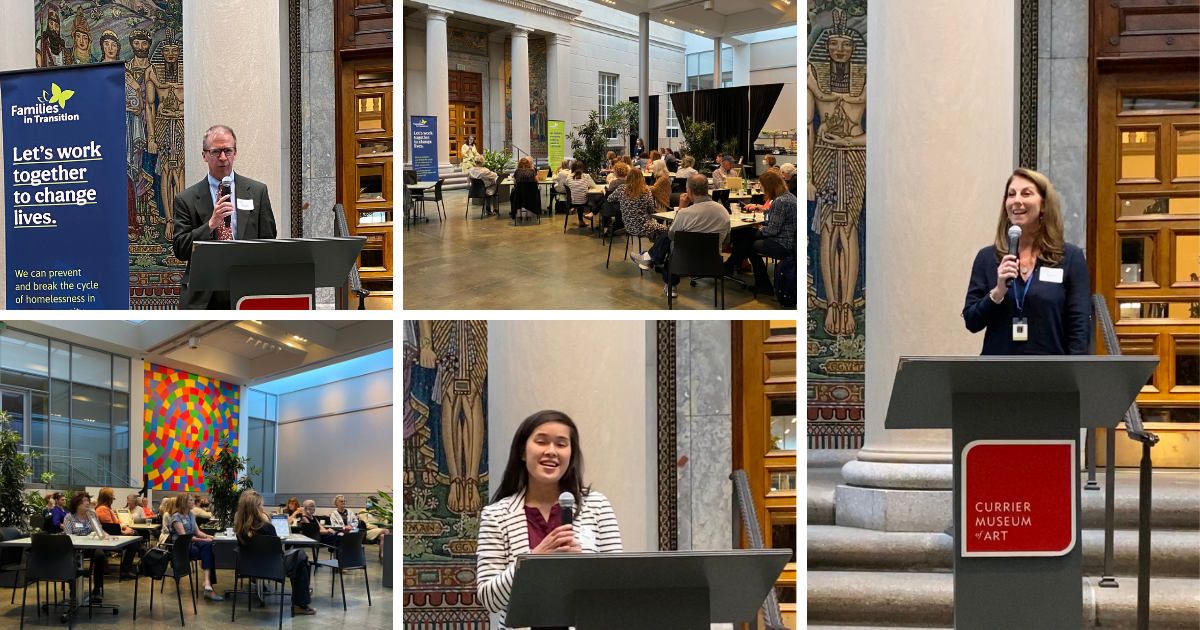 Thanks to our Volunteers, our Dining Services team stands ready to provide as many as 650 meals each day to those in need. Many volunteers come almost every day and did so through the height of the pandemic. Some picked up extra shifts to ensure success during this time of change. New volunteers joined the team to meet new needs. Overall, their collective efforts have significantly and positively affected production, nutrition, quality, and overall food costs.
"So far, in 2021, under the duress of COVID-19, supply chain troubles, inflation, and labor shortages, thanks to our volunteers, we provided nearly 120,000 meals and counting! They ensured we met the nutritional needs of individuals at our adult emergency shelter, family shelter, and transitional living programs."
– Bryn Joyce, Dining Services Manager
Volunteers have hauled hundreds of thousands of pounds of high-quality surplus food that would otherwise go to landfills to be used in meal production. They carefully sorted and hand-picked ingredients to suit our Chef's recipes. Volunteers washed, peeled, chopped, diced, baked, and packaged. They stocked shelves, scrubbed pots and pans, served meals, and sanitized.
At our greenhouse, volunteers started seedlings, painstakingly nurtured them, and produced an abundant 2,000 lbs of fine produce and dried herbs so far this year. The greenhouse produce allowed us to reduce purchasing and facilitate improvements in nutrition and quality in a true farm-to-table fashion while also bringing beauty to our community.
"Volunteers bring kindness, dignity, wisdom, and elbow grease to our programs. Their work not only impacts individual lives, but it is also truly community building."
– Jackie Stone, Pantry Coordinator
During this difficult time for individuals and the community as a whole, the support of our volunteers giving their time has helped strengthen the community and Families in Transition. We have been able to fill the gaps for many households. At our food pantry, our volunteers have worked side by side to provide food and essential items.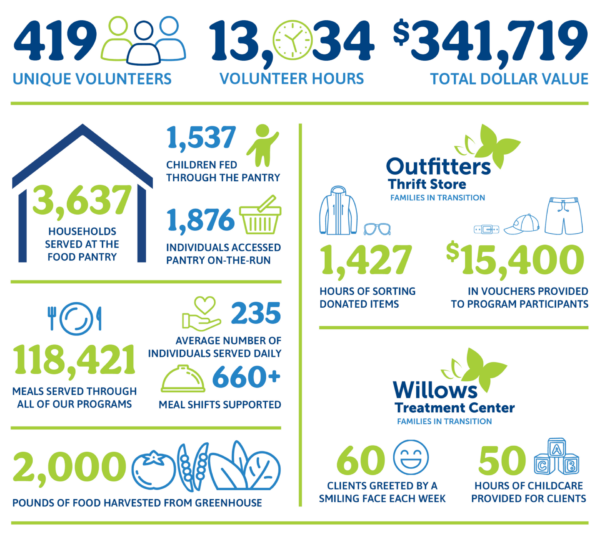 Our work is equally challenging and rewarding. Having the support of the community makes it all worthwhile. Volunteers are the most authentic expression of the community's support. People who choose to give their time freely validate our mission. It shows us our efforts to prevent and break the cycle of homelessness inspire others to act in the face of adversity.