When we reopened the doors of our food pantry to walk-ins in early June, we had no idea what to expect. After more than a year of adapting and changing programs to meet the demands of the pandemic, we were excited to open our doors to Manchester residents who were in need of assistance. Like many of our food pantry patrons, we were ready to 'get back to normal' and return to serving our neighbors in a greater capacity.
Throughout the pandemic, we knew of the greater need for food. While we knew that there was a growing need, the reality was that we were seeing fewer community members than normal. In part, this was due to people's fears around COVID-19, the increase of assistance through SNAP and EBT, and our shift to an appointment-only model at the pantry to keep staff, volunteers, and our community members safe.
After moving the pantry to a new location on Lake Avenue in Manchester and months of preparation, the pantry team was confident in their ability to support the return to a regular schedule and make access to food more readily available. We hosted a soft-opening the first week of June and invited several people from our programs to trial the new shopping experience.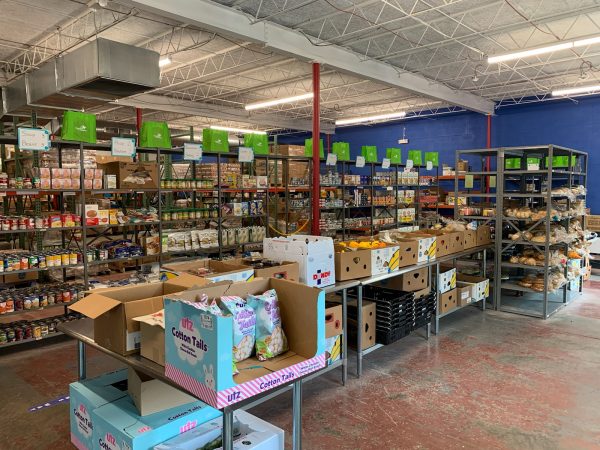 Members can now select what they like from the shelves and fill up their cart rather than receiving a pre-packed food box.
As things started to open back up in New Hampshire, we were honored to host a ribbon-cutting event to officially celebrate the new building and announce the opening of our doors to members of the community. Since then we have seen an incredible response and are humbled by the sheer volume of and grateful to be able to support the need.
We saw a 44% increase in the number of households served with regular food distribution with meat and other shelved items and more than 1,500 individuals came through our doors for our Pantry On the Run and daily access to perishable items, like produce, bread, and pastries.
Our pantry team is always in need of volunteers who can work shifts during the day, so if you are passionate about giving back, please contact our volunteer team to learn more about these opportunities.
Learn more about the food pantry