Beyond the Stigma: Son's addiction and recovery inspires insurance executive to help others
New Hampshire Union Leader
By Shawne K. Wickham
Updated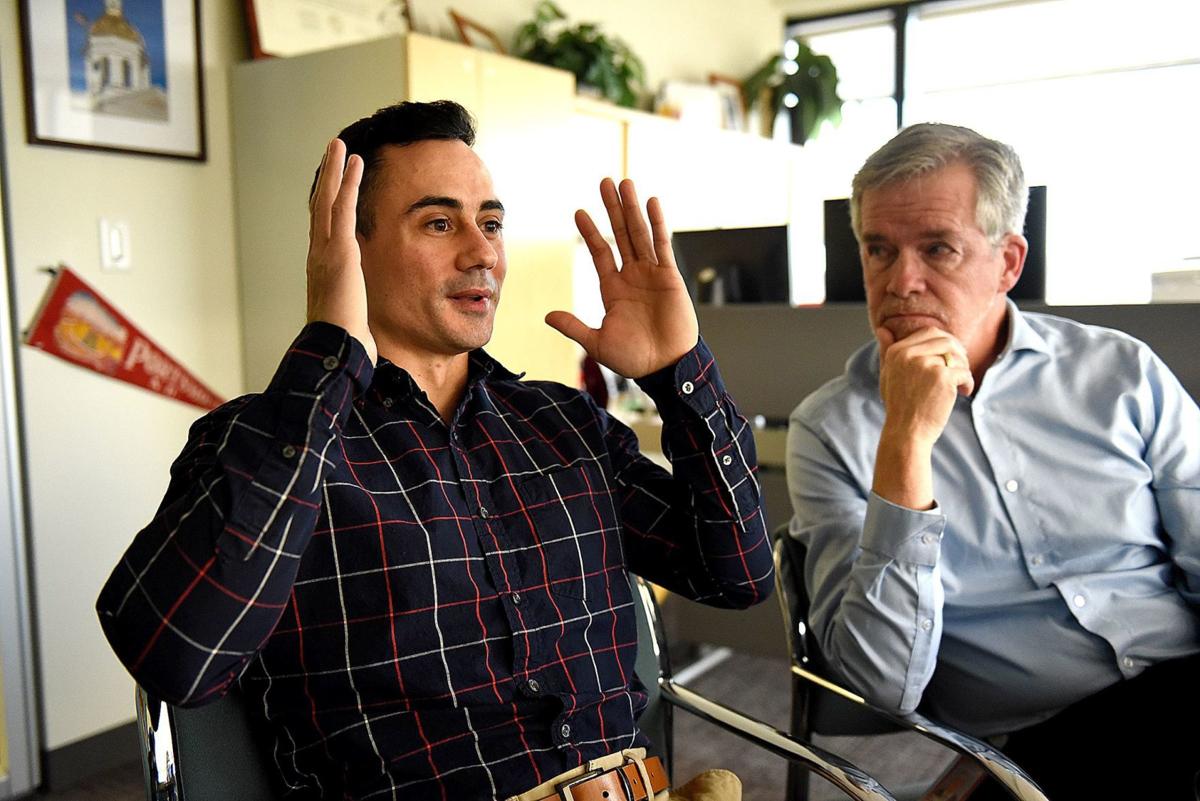 William Brewster is a physician and his wife, Jo-Ann, is an ICU nurse. So they both were accustomed to dealing calmly and compassionately with emergencies. But for years, they could only watch helplessly as their funny, gifted son fell ever deeper into the abyss of drug addiction.
It was like living "in the middle of a hurricane," Dr. Brewster recalls.
Now 32, Zachary Brewster has been in recovery for five years. He works for a faith-based program that helps teens and adults overcome addiction, and he's planning to attend medical school after he graduates from college next spring.
Father and son recently sat down for an interview at Harvard Pilgrim Health Care in Manchester, where Dr. Brewster is vice president for the New Hampshire market. They wanted to share their story to combat the stigma around addiction and help other families find hope and healing. "This is not them; this is us," Dr. Brewster tells people. "We're all in this together."
Dr. Brewster said his family's experience around addiction helps inform his company's response to the drug crisis. "It gave me a heightened awareness of how unpredictable, irrational — and blameless — this is," he said. "How out of control."
Harvard Pilgrim was the first insurer in New Hampshire to eliminate co-pays for Narcan (naloxone), the overdose reversal drug; it also offers training for employee groups on how to administer it. The company covers medication-assisted treatment without prior authorization, and alternatives for pain management such as therapeutic yoga and acupuncture; there's a confidential 24/7 treatment helpline and peer support specialists to help members navigate treatment and recovery.
Like so many New Hampshire parents in the midst of this epidemic, the Brewsters for years lived in dread of getting a call telling them their son was in the hospital, or worse. Nine years ago, the call did come, from an emergency room nurse in a hospital where Jo-Ann Brewster was due to start a new job the very next day. Zachary had overdosed.
His girlfriend had called 911, and the EMTs had given him naloxone, but there were complications and they weren't sure he was going to pull through.
Zach did survive, but it would take another four years before he finally found the path to recovery.
Zach was always a "busy" kid, his dad said. So at first his parents chalked up his behavior to normal adolescence.
Here's how Zach recalls it: "I remember being very curious and being very willing to go beyond comfort as far as looking for things to get in trouble with," he said. "I liked fire, knives. Things that I was told not to do, I wanted to do it."
Junior high was tough, he said; he was bullied and teased. One day, some older kids offered him marijuana. "I smoked it and for the first time in my life, it was like I was free," he said.
But, he said, "From that first hit, it was like something in me got severed. I was a totally different person from that day."
Zach was a good athlete, playing hockey and football at St. Thomas Aquinas High School in Dover. But he was living "a double life," he said.
Dr. Brewster said he and his wife "had no clue"about their son's drug use until Zach's junior year of high school, when they got a call telling them he had showed up at a school dance impaired and reeking of pot; the police had been called. They took him to a psychiatrist, who prescribed Adderall, a stimulant used to treat ADHD.
That quickly became just another drug to abuse, Zach said. "I thought it was just the greatest combination: I could smoke all I want and not get burned out or tired."
He managed to graduate from high school and went to Plymouth State University, where his drug use spiraled out of control, he said. He tried cocaine, ecstasy, LSD and psychedelic mushrooms. He dropped out and "came home pretty much with my tail between my legs," he said.
His parents got him into counseling and he enrolled in a continuing education program, hoping to earn enough credits to go back to college. Then someone offered him his first hit of crack cocaine, "and it was over," he said.
"I was standing at the edge of a cliff for a number of years, and just took a dive off it," he said. "Everything kind of imploded after that."
Dr. Brewster said he and his wife tried everything to help their son, paying thousands of dollars to send him out of state to private rehab, but things kept getting worse. At the time, there were no treatment programs in New Hampshire, he said.
"I would have paid for anything," he said. "We always assumed the worst: He's going to die. What's money?"
And, he said, "Every time the phone rang, I would go, 'Oh my God, he's dead.'?"
Zach was stealing from stores to support his habit and in 2009 he got arrested. He spent four months in county jail and came out "with an opiate habit," he said.
Then came the call that Zach had overdosed. "Thank God for Narcan and paramedics," his father said.
In the days leading up to his overdose, Zach recalled, "I was on a mission to self-destruct." But he still hadn't hit bottom. "I was shooting dope three days after I got out of the hospital," he said.
He tried to quit numerous times; once he managed to stay on suboxone for nearly a year before relapsing again.
He would disappear from his family when he was using, Zach said. "When I was in it, I had no part in their lives. … I would fall off the radar. When I would resurface, they would always welcome me back."
Finally, after he got arrested again in Lawrence, Mass., in 2012, his parents did bar him from their house. Dr. Brewster said he and his wife had been attending Al-Anon meetings, learning "to protect ourselves."
"We were just out there praying, going to church, talking to our priest, doing everything we could do just to keep ourselves together," he said. "And getting ready for him not being alive."
Finally, Zach reluctantly agreed to try Teen Challenge, a faith-based organization for adults and youth in Manchester. One day, he was working on a project, painting a church, and he realized that one of his dealers lived just around the corner. He was thinking of walking away when the man he was working with confronted him.
"He said, 'God saved my life a long time ago. … If you ask for help, your whole life will be different,'?" Zach said. "He prayed for me."
"In that moment, my whole life changed," he said. "It was like a lightning bolt struck me in the forehead."
Everything, even staying clean and sober, suddenly seemed easier, he said. "I knew I was going to make it through," he said. "I had a peace about where I was, where I was going."
Zach is now the resident life supervisor at Teen Challenge, and he's finishing his degree at the University of New Hampshire at Manchester in biological sciences. He's applying to medical school, aware of the gaps in his resume.
"I can certainly feel the repercussions of missing out on those critical years of junior high and high school," he said. "I had to learn how to be a student all over again."
These days, he doesn't even drink. "I know what I know," he said. "Now I always say I'm allergic to alcohol: I break out in handcuffs."
Not long after he started at Harvard Pilgrim in 2012, Dr. Brewster shared what was going on with his son with co-workers, and they were extremely supportive, he said. And with his CEO's blessing, he spoke out publicly for the first time at a Chamber of Commerce function in 2015 — and then listened as others stood up to talk about their own loved ones' struggles with addiction. "All these people in suits … saying things they had never told anybody before," he marveled. "This is happening to people they know; they're not alone."
The Harvard Pilgrim Health Care Foundation recently gave grants of $10,000 each to four organizations to serve individuals dealing with opioid addiction: Families in Transition – New Horizons in Manchester; the Mental Health Center of Greater Manchester; and Riverbend Community Mental Health and Second Start, both in Concord.
Here's what Dr. Brewster wants people to understand about addiction: "It's not a defect of character; it's not a shameful thing; it's not a weakness. It is like any other illness that anybody has."
He thinks about everything that Zach missed during those "lost years," he said. "He's such a good kid; he's so smart, and to think that that was wasted," he said. "And I think of the parents whose children have died, and who know that future they'll never have but could have had …"
Dr. Brewster said he is encouraged by how much more attention and resources are being devoted to the drug crisis. But he said the money the state spends on incarcerating those who get in trouble because of substance abuse would be better spent on prevention, treatment and recovery. "There's enough money out there to deal with this," he said.
In Zach's view, there needs to be more long-term treatment, vocational training and housing for those in recovery. "I think we need to stop simplifying a complex situation," he said.
Dr. Brewster said he's grateful every day for the son who has grown into a caring, thoughtful adult. "We sit and talk," he said. "He's part of our life now."
Zach excused himself; he was off to a medical externship for his senior project. Father and son embraced warmly. "Love you, Dad. You're the best," Zach told his father.
The look on his dad's face said it all.
Read more here: www.unionleader.com/news/stigma/beyond-the-stigma-son-s-addiction-and-recovery-inspires-insurance/article_df7b679e-9a25-5b7a-8923-a399ccf781ac.html