City residents offer solutions to city's homeless challenges
New Hampshire Union Leader
June 29, 2019
Shawne K. Wickham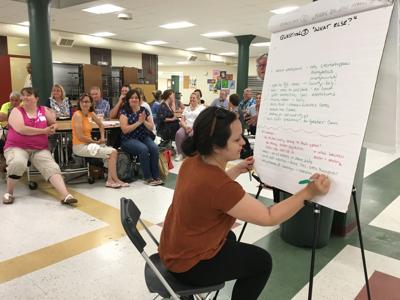 A tree-lined courtyard, separate "wet" and "dry" shelters, public bathrooms and showers, and a food market: That vision of a new campus for the homeless shelter and soup kitchen in downtown Manchester was revealed on Saturday.
Families in Transition-New Horizons is seeking the public's input on its plans to redevelop its Manchester Street facility. The first step was a "charrette" run this weekend by Plan NH, a nonprofit group whose volunteer members include architects, engineers and planners. About 85 people attended two Friday sessions to brainstorm ideas, and then the Plan NH team went to work.
Only about 20 members of the public were there when the first peek at the work was revealed Saturday afternoon, but organizers said a final report will be released within three months.
North Sturtevant, CEO of JSA, an architectural firm in Portsmouth, said he and others from Plan NH visited the shelter and spoke with clients. They also met with business leaders to ask about their concerns.
"Our objective is to create a place at the site to make it more appealing, welcoming and efficient, and to create a cohesive and coordinated neighborhood where New Horizons is a good neighbor and an element of the neighborhood that brings pride," he said.
New Horizons has served homeless clients in the city since 1973. Last year, the agency merged with Families in Transition; the combined organization runs an adult homeless shelter, soup kitchen, food pantry and women's shelter.
Sarah Wrightsman, executive director of the Workforce Housing Coalition of the Greater Seacoast, said charrette participants talked about creating a campus with greenery, open spaces and better lighting to replace the existing concrete.
The plan the group came up with in just 24 hours would use the existing shelter building as a "dry," or abstinence-based, dormitory for men and women as well as a dining area and a balcony for outdoor dining. The current food pantry would be replaced with a new, separate market where folks could shop and attend culinary classes.
Another new building would house a "wet" shelter — where clients are not required to abstain from alcohol — with separate floors for men and women and space for medical services.
A new entryway through a courtyard would eliminate the lines of folks who currently wait outside to get in. And anyone who needs a bathroom or a shower can use the downstairs facilities, which would address the complaints of neighbors about human waste in the area.
Another goal, planners said, is to make the campus more a part of the surrounding neighborhood. They envisioned opening a barber shop and salon in street-level storefronts, installing artwork and murals, and planting trees with benches underneath along the city streets.
At the Friday afternoon session, participants were asked to discuss both what they see now at the FIT-NH shelter and what changes they think should be made. "If you could wave a magic wand in that neighborhood, what would you like to see?" asked Robin LeBlanc, executive director of Plan NH.
Local business owners, residents, storekeepers and clients of the shelter weighed in. And while many offered positive suggestions, some complained about the impact of the shelter on their businesses.
Yash Pal said he can't sell the building where he ran the former Chateau Restaurant for 40 years because would-be buyers balk when they see its proximity to the shelter. He said that for years he has cleaned up human waste and, more recently, needles from the area.
"I have lost my patience," he said at Friday afternoon's session. "I think it's time they moved someplace else."
Brian Hansen, a project manager at a Bedford engineering firm who serves on FIT-NH's board of directors, urged charrette participants to think big about what changes they'd like to see at the site.
"You can take a giant bite out of the apple," he said. "Please don't take baby steps. Swing for the fences."
And that's what they tried to do, Sturtevant said Saturday. "We thought big," he said. "Don't get scared of that. There's a way to break this down and look at it strategically, so that over time this larger vision can be realized."
And he stressed that this plan is a beginning, not an endpoint.
"As nice as we've made this and as dignified as we've made this, this is not where people are going to end up," he said. "This is where people go to get that hand to help them up to the future."