Fire in homeless camp a reminder of dangerous weather to come
New Hampshire Union Leader
November 15, 2019
Josie Albertson-Grove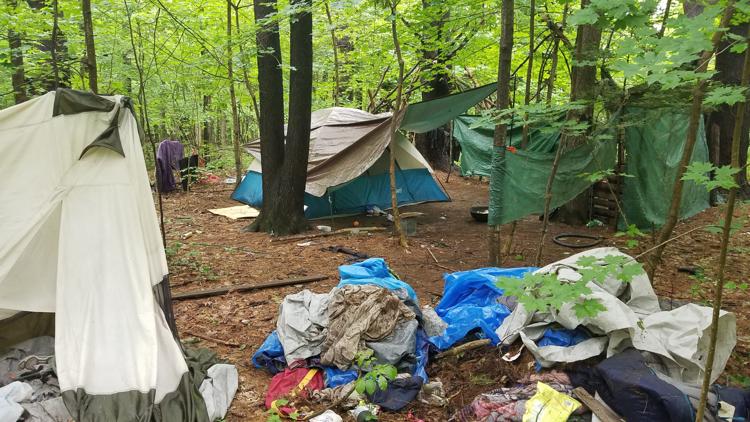 MANCHESTER — A fire at a homeless man's camp is a reminder of how dangerous winter is for the city's homeless residents.
On Thursday morning, a man who has been living in the woods off Hooksett Road was cooking breakfast with Sterno, said District Chief Al Poulin of the Manchester Fire Department. A part of his makeshift shelter caught fire just before 9:30 a.m.
Firefighters put the fire out, but called the health department to clean up the camp, littered with trash and feces. Poulin said the man had recently been hit by a car on Hooksett Road, and still had broken bones from the crash.
"We don't want anyone like that left out in the cold," Poulin said.
But, he said, he expects more people out in the cold this winter.
Cathy Kuhn of Families in Transition-New Horizons, said it is difficult to pinpoint how many people are sleeping outside on a given night. Some nights, people might be able to find a friend to stay with, or can get one of the beds available in the New Horizons shelter.
Some people do not seek shelter beds. Poulin said it was clear the man had been at his Hooksett Road campsite for weeks, if not months.
Outreach teams from Families in Transition-New Horizons go out and try to work with people sleeping outside, Kuhn said. They work to establish relationships, build trust and encourage them to come inside for food, health care, drug and mental health treatment. Those relationships take a long time to build, she said, especially because camps move around so much.
The 138 shelter beds at the New Horizons shelter, Manchester's only emergency shelter, have all been full this week, Kuhn said.
In the 46 days since the shelter capped the number of overnight guests at 138 on Oct. 1, she said the shelter has been full 20 nights, and the shelter has had to turn people away.
"We're certain as it gets colder and colder, we are going to be at capacity," Kuhn said.